Historic West End / JCSU Campus Self-Guided Walk
by Tom Hanchett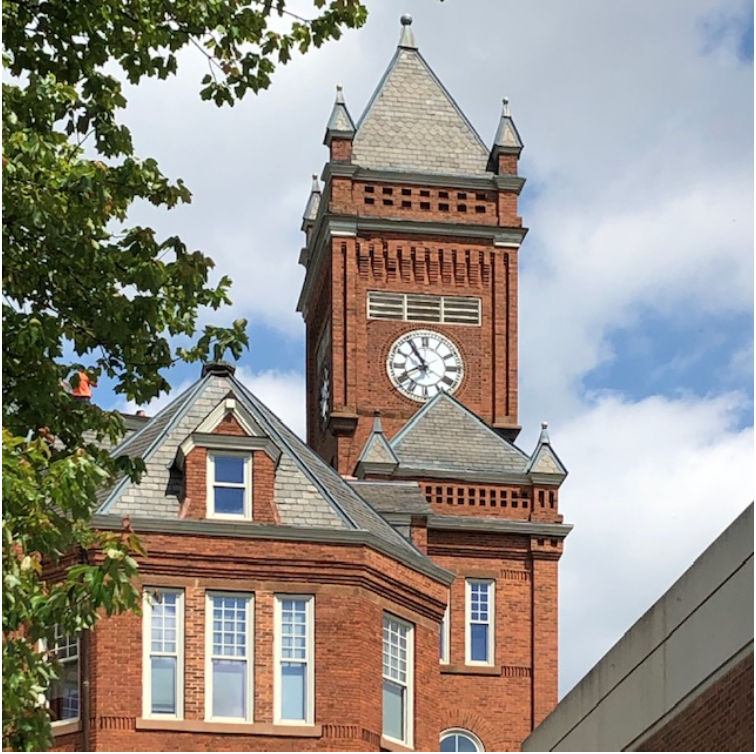 For over a century and a half, what is now Johnson C. Smith University has been a beacon on a hilltop, a treasured symbol of Charlotte's African American communities. Around what was originally Biddle Institute, founded in 1867, an African American village grew up called Biddleville. Whites lived in the vicinity, too, in a neighborhood along West Trade Street called Seversville.
The area has seen much change throughout the decades. Biddle Institute grew to become Johnson C. Smith University in 1923. Whites gradually departed the area around the 1960s but are now returning alongside African American professionals attracted by extensive new residential construction.
And during Summer and Fall of 2020, work crews will be finishing the LYNX Gold Line, a new electric streetcar track running along old West Trade Street and Beatties Ford Road.
What's to see?
Seven official Charlotte Mecklenburg Historic Landmarks. A tree-shaded college campus
with Charlotte's grandest Victorian building. Churches with deep Charlotte histories: Presbyterian, Baptist, Methodist, AME Zion, United House of Prayer.
Where to start? Mosaic Village, 1601 W. Trade Street
Public parking is available in the deck under Mosaic Village; use any space marked "retail."
How long? about 1.5 miles.
If you are a brisk walker, that's maybe 30-40 minutes. If you stroll, amble or dawdle (all are much encouraged), it'll take longer.
Please stay on the public sidewalk. None of these places are open to visitors.
MOSAIC VILLAGE – 1601 W. Trade Street
Before leaving Mosaic Village, peek to your right around its side wall (the one that faces uptown Charlotte) to see the Historic West End mural.
HISTORIC WEST END MURAL – 1601 W. Trade Street
Turn and head up the West Trade Street hill toward the Johnson C. Smith University campus. On your right you'll see the red-brick church that is now home to the Jerusalem House of God.
SEVERSVILLE / SIMPSON CHURCH – 1704 W. Trade Street
At the end of this block is the Five Points intersection, where five streets once came together. Bear slightly right on Beatties Ford Road (JCSU campus will be on your right, M & F bank will be on your left).
MECHANICS & FARMERS BANK – 101 Beatties Ford Road
JOHNSON C. SMITH UNIVERSITY GATE – 100 Beatties Ford Road
Continue walking on Beatties Ford Road. Most of the JCSU campus is to your right. It is currently closed to visitors during the Covid-19 quarantine. Three prominent structures, however, are clearly visible from Beatties Ford Road: the university chapel, the new Science Center, and the soaring red-brick tower of Biddle Hall.
NEW SCIENCE BUILDING, PRESBYTERIAN CHAPEL – JCSU campus
BIDDLE MEMORIAL HALL – JCSU campus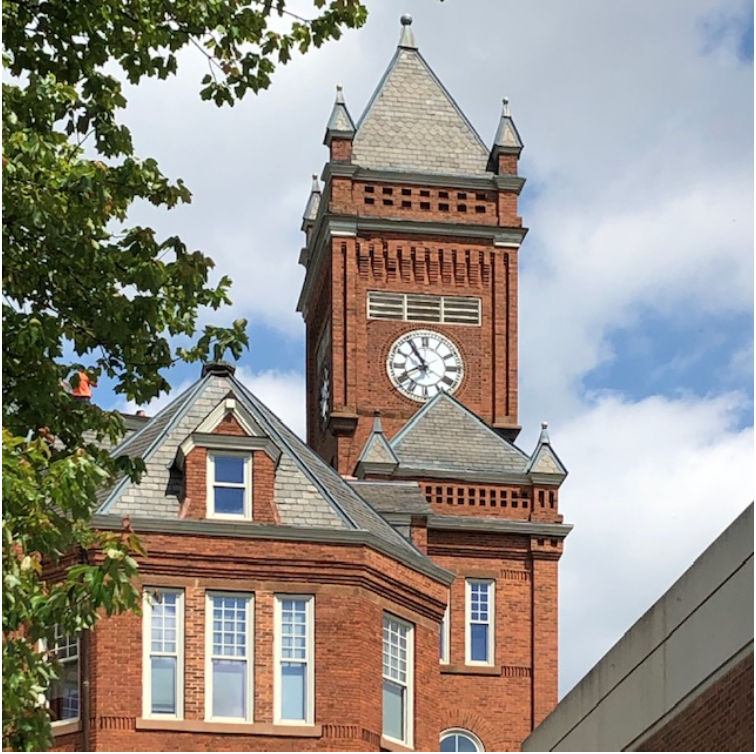 DAVIS SCIENCE HALL, CARNEGIE LIBRARY, CARTER HALL, STUDENT UNION – JCSU campus
Due to Covid-19 restrictions, it is not possible to walk onto the JCSU campus during summer 2020. Plan a future visit to see (clockwise from upper left) the 1923 George E. Davis Science Hall, 1912 Carnegie Library, 1965 Student Union by noted modernist architect A.G. Odell, 1895 Carter Hall built by students under the direction of regionally important African American artisan William Houser.
The former Carnegie Library and Carter Hall are both official Charlotte Mecklenburg Historic Landmarks.
At the end of this long block, Dixon Street veers off to your left. Turn left on Dixon Street one short block, then turn right on Campus Street – stopping to admire the Davis House.
DR. GEORGE E. AND MARIE G. DAVIS HOUSE – 301 Campus Street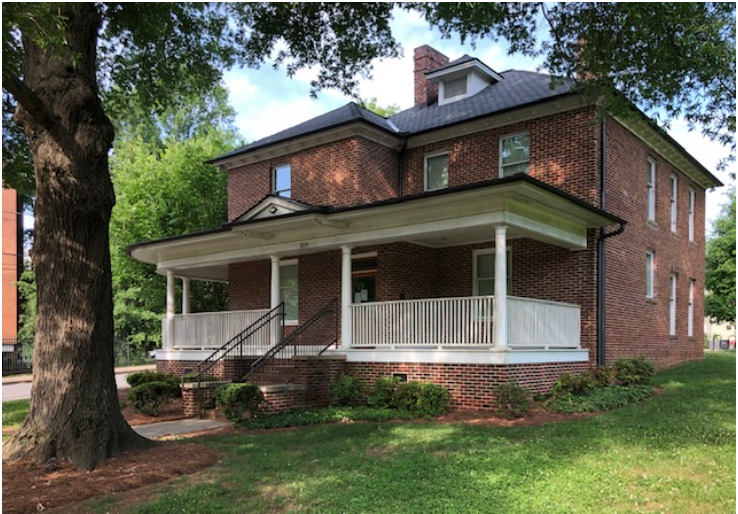 Born in slavery times, George E. Davis rose to be JCSU's first African American professor. When he retired, he led fund-raising across North Carolina for the Rosenwald Fund, a match-grant philanthropy that helped African Americans build 813 rural school buildings in the state during the 1910s – 1930s. Wife Marie G. Davis was a school principal; today's Marie G. Davis Elementary School honors her memory. In 2014 Charlotte Mecklenburg History Landmarks Commission partnered with JCSU to restore this Victorian home, now offices for a program that helps foster children succeed at college.
The Davis House is an official Charlotte Mecklenburg Historic Landmark. 
Continue walking along Campus Street. Turn left on Mill Road.
ELIZABETH SMALLS BAMPFIELD HOUSE – 304 Mill Road
Now retrace your steps back to Campus Street. Turn left on Campus Street.
OLD MT. CARMEL BAPTIST CHURCH – 408 Campus Street
Presbyterians may have dominated the JCSU campus but – this being the South — there were plenty of Baptists around, too. In 1921 Baptist worshipers dedicated this handsome brick structure designed by leading Charlotte architect Louis Asbury. When the congregation left for larger quarters in 1977, they donated the building to JCSU. Today the University and Charlotte Mecklenburg Historic Landmarks Commission are seeking funds to renovate it.
The old Mt. Carmel Baptist Church is an official Charlotte Mecklenburg Historic Landmark.
Turn left on Mill Road and walk almost to the end of the block, where you will see 304 Mill Road on your left.
DOROTHY COUNTS SCOGGINS HOME – Campus Street
Also on Campus Street is the current home of Dorothy Counts, one of four black students to integrate Charlotte's white schools in 1957. The famous essayist James Baldwin wrote about a photo of Counts walking into what is now Irwin School: "There was unutterable pride, tension and anguish in that girl's face as she approached the halls of learning, with history jeering at her back." In 2019 a new generation of Irwin students, led by 5th graders Maya McClain and Morgan Winston, gave her a hero's welcome and dedicated a bench in her honor.
Continue on Campus Street, crossing French Street, until you see Gethsemane AME Zion on your left.
GETHSEMANE AME ZION CHURCH – 531 Campus Street
Turn right on Cemetery Street, then right again on Beatties Ford Road (heading in-bound toward JCSU)
UNITED HOUSE OF PRAYER FOR ALL PEOPLE – 537 Beatties Ford Road
Continue walking along Beatties Ford Road in the direction of JCSU.
BUSY BEE CARRY-OUT / MAMA GEE'S – 509 Beatties Ford Road
At French Street, carefully cross Beatties Ford Road to take a close look at the Biddleville history mural.
BIDDLEVILLE HISTORY MURAL – 508 Beatties Ford Road
Cross Mill Road (careful – cars go fast here) and continue walking in-bound on Beatties Ford Road. You'll see the Grand Theater on your right as Beatties Ford Road begins to climb a small hill.
FORMER GRAND THEATER – 333 Beatties Ford Road
Neighborhood movie theaters were a thing from the 1930s into the 1960s, including The Manor which which operated until recently in Myers Park. The Grand served African American patrons from 1937 to 1967.
The former Grand Theater is an official Charlotte Mecklenburg Historic Landmark.
JCSU TEACHERS HOUSES – 301 and 305 Beatties Ford Road
Continue walking in-bound along Beatties Ford Road (passing Mechanics & Farmers Bank again). Then turn right on Rozelles Ferry Road for one block.
ATRIUM HEALTH CLINIC – 1801 Rozelles Ferry Road
ROZELLES FERRY ROAD SHOPS – 1806-1816 Rozelles Ferry Road
Turn left on Whitehaven Avenue
DURHAM MEMORIAL BAPTIST / CLINTON CHAPEL AME ZION – 319 Whitehaven Street
Retrace your steps back along Rozelles Ferry Road. At West Trade Street, turn right to return to Mosaic Village -- the end of our tour.
A few additional special places in Historic West End
We've made this walking tour quick and compact, but you can add other sights if you like: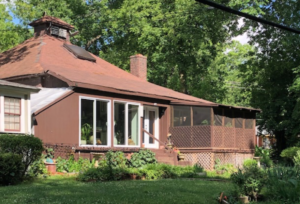 Attorney J. Charles Jones Home and Office — 2014 W. Trade Street. As a JCSU student, Jones co-led Charlotte's 1960 sit-ins. He went on to national activism: helped start SNCC, got jailed on the Freedom Ride, desegregated housing in Washington DC's suburbs and more. The New York Times and Washington Post wrote obituaries after his 2019 death. Note the additions completely surrounding his house – covering his passive-solar water tank system.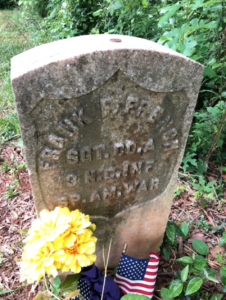 Biddleville Cemetery – 271 Cemetery Street. At the end of Cemetery Street, a block behind Gethsemane AME Zion, you'll find quiet, green Biddleville Cemetery, founded by African Americans in 1873.
Westside Meats — 1414 W. Trade Street. Tommie Lee "Pop" Coleman moved his Westside Meats into this spot in the 1970s. Today it's Charlotte's oldest butcher shop. 
Smallwood Presbyterian Church — 101 S. Gardner Avenue
This part of the West End is known as Smallwood. Streets of small, wooden houses built right after World War II, many for returning veterans, surround this 1948 church. The Biddleville Smallwood Community Organization holds its meetings here.
Savona Mill / Blue Blaze Brewing — 500 S. Turner Avenue. The 1915 Savona Mill is a reminder of Charlotte's heyday as a textile manufacturing center. Check out Blue Blaze Brewing, opened in a corner of the complex in 2016 – overlooking Stewart Creek Greenway and the iron track of the old Piedmont & Northern electric interurban railway.     
Our Charlotte Walking Tours
Historic Plaza Midwood
Some other tours we like
Mid-Century Modern in Center City
ArtWalks Charlotte – self guided walking tours of murals and other public art
Sorting Out the New South City explores how Charlotte became a city of neighborhoods. Book discussion guide available here >>