Urbanists call this a "stroll district" – a walkable area of small shops. It grew up over time where the streetcar turned from Central Avenue onto The Plaza (some of the rails are still there, exposed briefly when street crews scrape and repave). Nobody planned it, but lots of people have had a hand in shaping and re-shaping it over the years.
The mix of old buildings makes this a welcoming place for entrepreneurs who want to launch a new small business — including some now-famous names you'll recognize below. Wander and explore!
What's to see and do? It's a compact area, just two square blocks, with much going on. Look for layers of history – way-back stuff from the district's 1920s-1950s beginnings, more recent layers from the resurgence that began in the late '90s.
And snacks. Over two dozen spots to grab a fresh-roasted coffee, a burger, a baguette, a cannoli, a local-brewed beer, a Vietnamese salad roll …
How long? You can rush it in half an hour, maybe. But if you get into exploring shops and eateries…
Where to start? Arriving by car, you can usually find parking at Plaza Midwood's Charlotte Mecklenburg Library branch (1623 Central Avenue at The Plaza). Please help our mom-n-pop stores — don't park in a business's lot unless you are buying something there.
PUBLIC LIBRARY – 1623 Central Avenue
Walk in-bound on Central Avenue (away from The Plaza, toward center-city Charlotte)
ZADA JANE'S – 1601 Central Avenue
GULF STATION / PIZZA PEEL - 1600 Central Avenue
Continue walking in-bound on Central Avenue, crossing Thomas Avenue
BIRTHPLACE OF PIC 'n' PAY / WORKMAN'S FRIEND – 1533 Central Avenue
BIRTHPLACE OF FAMILY DOLLAR – 1510 Central Avenue
On November 19, 1959, 22-year-old Leon Levine swung open the doors of his first Family Dollar store, 1510 Central Avenue. The area's affordable rent and busy foot traffic helped him grow — moving to 1519 across the street (now Social Status), then to the Central Square shopping plaza where Roco Rotisserie is today. Family Dollar became one of America's top discount chains and Leon Levine became a major philanthropist: Levine Children's Hospital, Levine Museum of the New South, and much more.
In 2020 new owners extensively remodeled the Central Av building and are readying it for tenants at this writing.
THE PARSONAGE – 1525 Central Avenue
HARRIS FOOD STORE / MAMA'S CARIBBEAN – 1504 Central Avenue
PURE OIL STATION / FUEL PIZZA – 1501 Central Avenue
Dating from 1936, this steep-roofed "cottage" was one of hundreds of gas stations built in the Tudor Revival style by the Pure Oil Company. After a stint as Nick's Garage (Nick is still a Plaza Midwood favorite, now further out Central Avenue), this location opened as the very first Fuel Pizza in March 1998. Today they're all over Charlotte and as far away as Washington DC. 
LONG'S GROCERY / SOUL GASTROLOUNGE – 1500 Central Avenue
Turn left on Pecan Avenue
WALL POEM: LOVE COMES QUIETLY – Pecan Avenue at Gordon Street
On the rear wall of Soul Gastrolounge, almost out-of-sight next to Snug Harbor, a poem quietly waits for you. Central Piedmont Community College literature prof Amy Bagwell began her Wall Poems project in 2013, sprinkling verse in unlikely public places around Charlotte. 
Snug Harbor, by the way, is one of Charlotte's hottest indy-rock music venues.
Bear left off Pecan Avenue onto to the short one-block Gordon Street
PECULIAR RABBIT – 1212 Pecan Avenue
WORLD WAR II BARRACKS / WILLMANN PLUMBING – 1212 Gordon Street
At the end of Gordon Street, turn left onto Commonwealth Avenue
THE DIAMOND – 1901 Commonwealth Avenue
The Diamond's big neon sign aimed to lure drivers off Independence Boulevard, which was not limited-access when it opened in the 1940s. William and Flonnie James built the diner about 1945, their twin sons Robert and Ralph ran it for decades, then Greek restaurateur Jimmy Pistiolis took over in the '90s. A new generation of Greek owners led by Andy Kastanas lovingly rehabbed it in 2010, with a retro menu that recalls Charlotte's many Greek/Southern eateries of yore.
BRODT'S MUSIC / LEGION BREWING – 1906 Commonwealth Avenue
At the Penguin, turn left onto Thomas Avenue
THE PENGUIN – 1205 Thomas Avenue
The Penguin started life in the late '40's as an ice cream stand near the new Independence Boulevard. It had lost out to newer fast-food chains when young Greg Auten and a couple of well-tattooed pals brought it roaring back to life in 2001. An eclectic jukebox, hot-rod themed burgers and fried dill pickles attracted TV's Guy Fieri (Diners, Drive-Ins & Dives). But the lease ran out in 2010 (Auten's westside Pinky's Grill still makes those fried pickles).
After a couple of re-incarnations, the Penguin building is being renovated in 2021 by Charlotte's prolific restaurateur Frank Scibelli as Calle Sol, with Latin American cuisine.
HOUSE OF AFRICA – 1215 Thomas Avenue
Continue up Thomas Avenue. Look through the public parking lot on your left to spy Queen Charlotte.
DRAG QUEEN CHARLOTTE – 1251 Thomas Avenue
Back in 2016 when NC passed anti-transgender legislation, community leader Tim Smyre turned a blank back wall of his 1510 Antiques into an affirming statement. Look closely – artists Nick Napoletano, Matt Moore and Matt Hooker painted drag queen pioneer Brandy Alexander with earrings that feature a certain NC governor.
THE PLAZA MIDWOOD MURAL – Thomas Av side of Coaltranes, 1518 Central Avenue
Matt Moore and Matt Hooker ("The Matts" – look for their double-M logo) painted more than two dozen references to Plaza Midwood recent history here. I see House of Africa (that's proprietor Pap in the glasses), the Penguin, the Diamond, Thomas Street Tavern …
Want to really dig into Plaza Midwood's public art? There's a walking tour for that – two tours actually.
POCKET PARK – Central Avenue at Thomas Avenue
Turn around and walk back down Thomas Avenue toward Commonwealth Avenue
DISH and THOMAS STREET TAVERN – 1220 Thomas Avenue, 1218 Thomas Avenue
BORIS & NATASHA – 1214 Thomas Avenue
Charlotte's hippest clothing store. Curated by Hope Nicholls, whose punk-rock band Fetchin' Bones won national fame in the late 1980s, cutting three LPs on Capitol Records. When that burned out she came home to Charlotte, where she and husband Aaron Pitkin gleefully stir the city's cultural pot. Catch their current band It's Snakes, whose rare gigs mix performance art with party music.
You recall who Boris & Natasha were, right? You so hip!
In 2021 rising rents and ever-tighter parking in Plaza Midwood pushed Nichols to move Boris & Natasha to a new spot 1.5 miles out The Plaza. Asheville-based brewery Burial Beer is upfitting the Thomas Av building as a taproom.
Turn left on Commonwealth Avenue. You may want to stop in at Common Market, a favorite neighborhood gathering spot.
COMMON MARKET — 2007/2009 Commonwealth Avenue
MOXIE MERCANTILE – 2008 Commonwealth Avenue
This might be Charlotte's best Craftsman Bungalow. Get an up-close look at the 1920s stone and wood detailing outside and inside. After its early years as a house, it held Charlotte's busiest wedding planner for several decades. Now it's a gift shop run by Michelle and Clifton Castelloe. Cliff often co-plans neighborhood events as the head of the Plaza Midwood Merchants Association.
Turn left onto The Plaza.
FIRE STATION No. 8 – 1201 The Plaza
It looks like a house, but it never was a house. Charlotte architect M.R. Marsh created the design to fit into what was then a purely residential block. "One of the first residential-type structures to be built in this part of the country for use as a fire station," said the Observer when it opened on April 25, 1949.  It's now an official Charlotte Mecklenburg Historic Landmark. The firefighters love its vibe: they've nicknamed their unit "The White House."
POST OFFICE — 1233 The Plaza
Continue up The Plaza to Central Avenue and you are back at the Public Library where you started.
Want to walk a little further?
Plaza Midwood Historic District Self-Guided Walk – Cross Central Avenue and continue strolling up The Plaza into the residential streets of one of Charlotte's six official Historic Districts. 
Central Avenue Self-Guided Walk — Turn left (inbound) on Central Avenue and continue with a self-guided walk that explores more of that commercial thoroughfare.
Book store / photo gallery side-trip – Turn right on Central Avenue and take a half-block out-and-back amble to Book Buyers and the Light Factory.
BOOK BUYERS -- 1308-F The Plaza
Return to Central Avenue and walk outbound on Central past the shopping plaza. First thing you see on your left is Midwood School. Take the driveway BEFORE the school; in the school's back parking lot you'll find the entrance to Light Factory.
LIGHT FACTORY – 1817 Central Avenue (rear)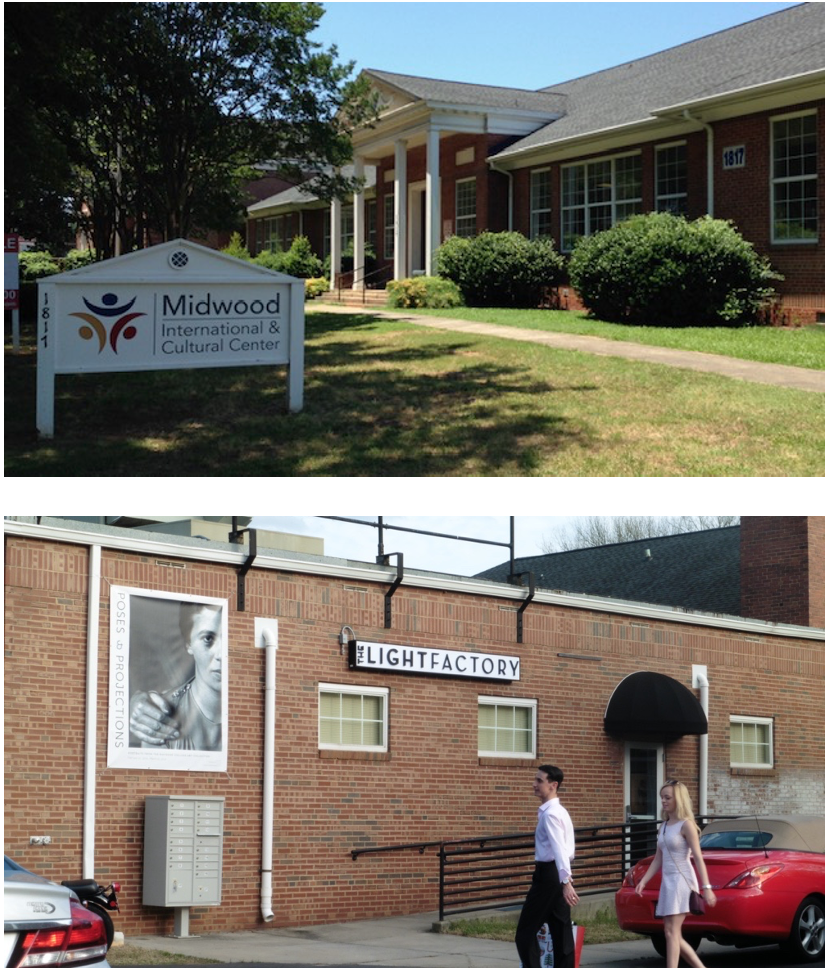 Now walk back inbound on Central Avenue the way you came, returning to the Public Library.
Our Charlotte Walking Tours
Historic Plaza Midwood
Some other tours we like
Mid-Century Modern in Center City
ArtWalks Charlotte – self guided walking tours of murals and other public art
Sorting Out the New South City explores how Charlotte became a city of neighborhoods. Book discussion guide available here >>