Bill Monroe
Most people think of bluegrass as mountain music, old as the hills. But in truth the hard-driving mix of fiddle, mandolin, guitar, three-finger banjo, and bass first came together in the 1940s and reflects varied musical influences. Bill Monroe introduced it on the Grand Ole Opry, and because he named his band the Bluegrass Boys, his style of music eventually came to be known as "bluegrass." Monroe launched his recording career during the years 1936 to 1938 in Charlotte.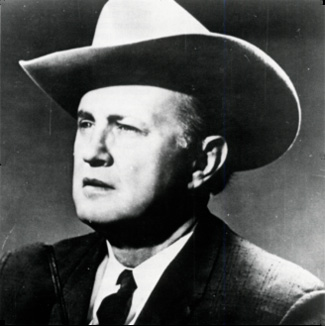 Born the son of a Kentucky farmer on September 13, 1911, Bill Monroe was the youngest of a musical family. He ended up playing mandolin because the more glamorous instruments — fiddle and guitar — were already taken. When Bill was in his teens his brothers Birch and Charlie joined the regional movement from farm to factory. They journeyed to the Chicago area to work as laborers for Standard Oil, and Bill joined them about 1929. They played music together in their spare hours and won a part-time role as exhibition square dancers with the WLS radio barn dance roadshow.
In 1934 Bill and Charlie quit Standard Oil for full-time careers as a country music duo. Charlie Monroe, then thirty-one, played guitar, sang lead, and worked hard to get the audience to enjoy itself. Bill, just twenty-three, was by contrast quiet and inner-directed. He concentrated on picking out melody lines on the mandolin—a task usually left to the fiddle in mountain music—and developing high, lonesome-sounding vocal harmonies.
The Monroe Brothers started singing daily on the radio for the patent medicine Texas Crystals in Shenandoah, Iowa, and then Omaha, Nebraska. After only a few months, the company sent them east to the piedmont textile region where they appeared on WIS in Columbia, South Carolina. There, sales of Texas Crystals "gave out," recalls Bill, and the brothers moved to a stronger competitor, the Crazy Water Crystals company, which maintained its regional office in Charlotte.
By 1936 they were doing two Crazy Water radio shows a day with popular announcer Byron Parker—one in Greenville, South Carolina, where they lived, and the other over WBT Charlotte.
The Monroe Brothers' popularity attracted the attention of RCA Victor executive Eli Oberstein when he visited Charlotte for a week of recording in February, 1936. It took a telegram and persuasive phone call from Oberstein before the busy duo consented to record. RCA's initial release from that session, the hymn What Would You Give In Exchange for Your Soul, proved to be one of the biggest-selling records in the South in the 1930s. By the time of their last Charlotte session in January, 1938, the Monroes had left Greenville for Raleigh and a daily slot on WPTF there.
The Monroe Brothers' sixty sides constitute their entire recorded output as a duo. Among the discs are versions of Roll On Buddy, Nine Pound Hammer, On Some Foggy Mountain Top, andRoll in My Sweet Baby's Arms, whose popularity helped make those tunes become standards in bluegrass and country music.
The earliest Charlotte recordings sound very little like bluegrass, particularly the many hymns with their slow pace and plaintive vocals. "Our music then didn't have no drive," says Bill Monroe today. But even on the very first tune of that February 1936 session, My Long Journey Home, one can hear the unmistakable mandolin style he was soon to make famous. On later recordings it becomes more insistent. Monroe credits his improving sound in large part to his constant work on WBT and the other Crazy Water stations: "Oh, yes, radio was very important. You knew people were listening to you close every day so you worked to play right."
As time passed, Bill became dissatisfied with the old-time sound of the duet. Charlie, on the other hand, had no wish to alter what so obviously pleased the crowds. In the summer of 1938, while in Raleigh, Bill Monroe left to form the stringband that would gain fame as the Bluegrass Boys. Charlie spent much of the rest of his career in the Carolinas, working from a home base in Greensboro and recording for RCA at the 1938 and 1939 Rock Hill field sessions. His band, the Kentucky Pardners, became an important training ground for future bluegrass stars, including Lester Flatt, Curly Seckler, Dave "Stringbean" Akeman, Red Rector, and Ira Louvin. Among the numerous stations where the Kentucky Pardners spent periods doing daily radio shows was WBT Charlotte, where they joined announcer Grady Cole for a 5:45 a.m. "farm time" program during early 1946. Charlie retired to Kentucky in the late 1950s but returned to the Charlotte area for a last perfor­mance at the Lake Norman Opry House.
While Charlie continued as a much-loved entertainer in the Southeast, Bill Monroe went on to forge the new sound of bluegrass. The first organization of the Bluegrass Boys played in Atlanta and Asheville in 1939 before joining the Grand Ole Opry in October 1939 and cutting its first records in Atlanta on October 7, 1940. By the end of the forties the South was wrapped up in a craze for the music it appreciatively called "bluegrass" after Bill Monroe's band.
Scholars today argue over the forces that shaped bluegrass. Monroe will be the first to tell you that its roots are in his Kentucky upbringing. But historians point out that the new sound came to life not in the mountains but in the industrial towns where country people had migrated to find work. You may find influences of the musicians that Bill Monroe heard during his first years in the Carolinas—J. E. Mainer's Mountaineers String band, the revolutionary three finger banjo style of Snuffy Jenkins, the hot style of Fiddlin' Arthur Smith.
In fact Monroe drew many, if not most, of his early Bluegrass Boys from the Carolina piedmont around Charlotte. Earl Scruggs and Don Reno, who gave the band its trademark three-finger banjo style, grew up within the sound of WBT. So too did guitarist/vocalists Carl Story and Clyde Moody, and fiddlers Jim Shumate and Art Wooten.
Today in 1985 the tight, crisp stringband sound that Bill Monroe fashioned "with the farmer in mind" is enjoyed across America and in Europe and Japan. Nearly fifty years after those first Charlotte sessions, Bill Monroe continues his performing and recording career, richly deserving of his title, the "Father of Bluegrass."
— from George Holt, ed., The Charlotte Country Music Story (Spirit Square Arts Center and North Carolina Arts Council, 1985)
Update 2015
Bill Monroe died September 9, 1996, but his music lives on worldwide.  The Monroe Brothers' Charlotte sessions are available on several CDs including a very affordable British four-volume compilation that allows listeners to follow the evolution of Bill's style from 1936 through the early landmarks of "bluegrass" 1946 – 1947 with Earl Scruggs on banjo: Bill Monroe and His Bluegrass Boys: All the Classic Releases 1937 – 1949 (JSP Records: JSP7712).
Numerous books trace his influence on American music, including Richard D. Smith, Can't You Hear Me Callin': The Life of Bill Monroe, Father of Bluegrass (Little, Brown, 2000), Neil V. Rosenberg, BLUEGRASS: A History (University of Illinois Press, 2005), and Neil V. Rosenberg and Charles K. Wolfe, The Music of Bill Monroe (University of Illinois Press, 2007).
On brother Charlie, Germany's Bear Family label offers a box set of four CDs and a book by Dick Spottswood: Charlie Monroe — I'm Old Kentucky Bound — His Recordings 1938-1956 (Bear Family BCD 16808 DK).  See also Joseph Weidlich, The Country Guitar Style of Charlie Monroe: Based on the 1936-1938 Bluebird Recordings by The Monroe Brothers (Centerstream, 2009).
Musicians who took part in the Charlotte Country Music Story concerts
Briarhoppers and Charles Crutchfield
Joe and Janette Carter
Claude Casey
Tommy Faile
George Hamilton IV
Snuffy Jenkins and Homer "Pappy" Sherrill
Johnson Family Singers and Betty Johnson
Fred Kirby
Roy Lear
Wade Mainer
Bill Monroe
Zeke and Wiley Morris
Sam Poplin
Red Clay Ramblers
Arthur Smith
Tennessee Ramblers with Cecil Campbell and Harry Blair
Charlotte/Rock Hill Recordings available on CD (36 page pdf)