By Tom Hanchett
When is lunch more than lunch? At Salvadoreña restaurant in east Charlotte, it's a one-stop opportunity to discover favorite dishes from El Salvador, Mexico and Honduras.
Teachers at nearby Devonshire Elementary did just that recently during a CMS teacher workday. Their student body is 54% Latino, largely from Mexico and Central America. Getting to know Latin American cultures is a priority for Devonshire staff, says principal Mary Sturge.
Estefani Segovia, whose family opened Salvadoreña in 2009, helped organizing teacher Amy Trakas pick menu options. "Everyone thinks Hispanic food is just tacos and burritos," Segovia chuckled, but actually tacos are rare outside Mexico. So Segovia and Trakas selected three dishes that symbolize three distinct national cultures:
* From Segovia's native El Salvador: pupusas. Plates came with three corn pancakes, one stuffed with beans and cheese, one with chopped pork, and one with green flower-buds called loroco. "Tastes like zucchini," noted Trakas, approvingly.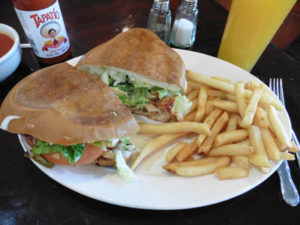 * From Mexico: a sub sandwich called a torta, filled with grilled chicken, plus American french fries on the side. "For the hungry eater," said Trakas.
* From Honduras: a baleada — a sort of quesadilla, but filled with beans. Charlotte now has many immigrants from tiny Honduras, so Latino restaurants are adding baleadas to the menu.
As teachers tasted and talked, José Hernández-Paris, Director of Latin American Coalition, told of his own experience as one of Charlotte's first Spanish-speaking students in the 1970s. Argentinian-born Sil Ganzo, whose OurBRIDGE for KIDS afterschool program welcomes immigrants from around the globe, chatted informally at each table.
Principal Mary Sturge said that she and other Devonshire teachers would be back: "The more we talk, the better we understand. Where do we talk? Around the table."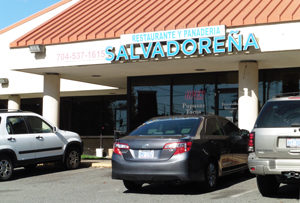 Salvadoreña Restaurante – Panaderia – Pupuseria
Monday 9 a.m. – 10 p.m.
Wednesday – Thursday 9 a.m. – 10 p.m.
Friday – Saturday 8 a.m. – 11 p.m.
Sunday 8 a.m. – 10 p.m.
Closed Tuesday
5724-G East WT Harris Boulevard (corner of Sharon Amity Road)
Charlotte, NC 28215
(704) 537 – 1615

Center City & nearby
Carolina apple cider
Indian street food
Greens from South Carolina
Upstate NY Italian sausage
Swiss-German bakery
Blackberry memories of Brooklyn
Puerto Rican kabobs
South Boulevard, South Tryon & southward
Mexico + Greece = holiday treats
Cuban box pig
Snack foods from India
SC meets Vietnam
Little corner of El Salvador
Arepas from Venezuela
Indian sweets for Diwali
Colombian soup
Korean at China Wing
Indian food in south Charlotte
Mexican take-out
Mexican Tamaleria
Fort Mill — real Chinese
Ready for Laotian food in Charlotte?
Psst! There's a European Market hidden just south of Ballantyne
Independence Boulevard, Monroe Road & environs
Nigeria in east Charlotte
Korean BBQ
Brazilian bakery
Secret Greek grocery
Colombian BBQ & snacks
Detroit hot dogs
New York bagels
Halal Latino
Russian-Turkish Grocery
Iran Kabobs in Matthews
Ramen in Matthews
Russian picnic fare
Armenia in Matthews
Katayef – holiday dessert at Pita Kabab in Matthews
Crispy NJ pizza comes to east Charlotte
Central Av, Albemarle Road & vicinity
Family-style Ethiopian
Dominican street food
Jamaican black cake
Somali stew and sides
Schawarma from Jerusalem
Oriental buns
Greek pastries
Bosnian sausages
'Tis the Season for Champurrado
Latino bakery feeds a region
Taste Monterrey, Mexico
Tamales in Plaza Midwood
One restaurant, three Latino traditions
Guatamala in east Charlotte
Mexican Seafood
You buy – We fry
Dominican Deli
French/Vietnamese pastry arrives in east Charlotte
North Tryon, UNCC area & northward
Asian Moon Cakes
Mexican carnitas
Beef on Weck from Buffalo
Indo-Chinese
Dominican fruit shakes, pressed subs
Mexican ice cream
Louisiana Viet crawfish
Salvadoran comfort food
NYC pastries – Lake Norman
Vegetarian eats from south India
Indian Dosa Night
Middle East via Lynx
Bahn Mi Brothers
Ethiopian sandwiches
Turkish near UNCC
BBQ from Pakistan
Find a taste of Hyderabad at Nawabs Kebabs
Westward
The Patio at Our Lady of Guadalupe
NC fish camps
Fried baloney
Grits & cornmeal
El Tamarindo
Laos in Kings Mountain
Lawrence Caribbean
Multiple Places & Food Trucks
5 eateries for Black History Month
Charlotte's International food scene
South's Love Affair with Soft Drinks
5 Places to "Eat Northern"
Northern Favorites: Six More Eateries
Curry journey: Vietnam, Trinidad, India
Spiedies – Food Truck
5 best bites on Albemarle Road
Lao Sausages – Food Truck
Western Indian – Food Truck
Himalayan flavors – Food Truck
Shaved ice goes global in Charlotte