by Tom Hanchett
When I walk into A & A International Foods on Sardis Road I think of my Dad.
He was a college professor who taught Russian history — with a strong belief that food was part of the story. Nothing delighted him more than finding a European deli or a baker of fresh crusty bread. We wouldn't wait to get home but would tear into the bags and parcels for a spontaneous picnic.
He'd love A & A International. Ashot Shirazyan started in 1994 on Independence Boulevard, then in 2016 he and wife Irina moved to a spotless space hidden behind a McDonalds at the corner of Monroe Road. They feature not just foods of Russia but also of most countries inside and around the old Soviet Union. The sales staff, dressed in crisp green uniforms, will happily hand you thin-sliced samples.
So let's assemble a picnic.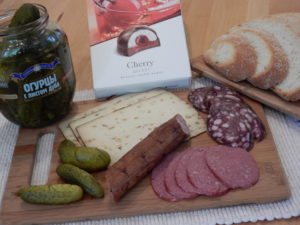 Start with sausage
Ask for a sample of the Russian style beef salami called Jewish Cervelat. It's thick-sliced, plump and moist in its casing, pungent with garlic.
Or try a sliver of a hard salami, perhaps the pork one named Moscow. It's dryer, ruby-red, with a wrinkled exterior that indicates lengthy curing.
My favorite discovery is Kielbasa Domova from Poland. The slender foot long casing is dark with smoke, stuffed with soft chunks of smoky pork. A whole sausage will set you back barely five dollars.
Add cheese and bread
Russian cheeses seem to be mostly mild, quietly complementing the assertive sausages. I like one called Greenwald that's embedded with tiny bits of walnut.
A & A sells fresh bread, ready-sliced for sandwich-making, baked by Serbian-owned Nova Bakery on Central Avenue.
Pickles and chocolate
You can tell that pickles are a Russian mainstay because A & A carries 34 varieties. Buy a jar, pluck out a couple for your picnic, take the rest home.
After polishing off a sandwich or two you'll want dessert, right? Select an eye-catching box of cherry filled Bonjour chocolates from Ukraine. Or a Stradiva ice cream sandwich from Lithuania.
A & A International Food
Monday – Saturday 10 a.m. – 8 p.m.
Sunday 10 a.m. – 7 p.m.
1636 Sardis Road N. Suite #110
Charlotte, NC 28270
(704) 844 – 8888

Center City & nearby
Carolina apple cider
Indian street food
Greens from South Carolina
Upstate NY Italian sausage
Swiss-German bakery
Blackberry memories of Brooklyn
Puerto Rican kabobs
South Boulevard, South Tryon & southward
Mexico + Greece = holiday treats
Cuban box pig
Snack foods from India
SC meets Vietnam
Little corner of El Salvador
Arepas from Venezuela
Indian sweets for Diwali
Colombian soup
Korean at China Wing
Indian food in south Charlotte
Mexican take-out
Mexican Tamaleria
Fort Mill — real Chinese
Ready for Laotian food in Charlotte?
Psst! There's a European Market hidden just south of Ballantyne
Independence Boulevard, Monroe Road & environs
Nigeria in east Charlotte
Korean BBQ
Brazilian bakery
Secret Greek grocery
Colombian BBQ & snacks
Detroit hot dogs
New York bagels
Halal Latino
Russian-Turkish Grocery
Iran Kabobs in Matthews
Ramen in Matthews
Russian picnic fare
Armenia in Matthews
Katayef – holiday dessert at Pita Kabab in Matthews
Crispy NJ pizza comes to east Charlotte
Central Av, Albemarle Road & vicinity
Family-style Ethiopian
Dominican street food
Jamaican black cake
Somali stew and sides
Schawarma from Jerusalem
Oriental buns
Greek pastries
Bosnian sausages
'Tis the Season for Champurrado
Latino bakery feeds a region
Taste Monterrey, Mexico
Tamales in Plaza Midwood
One restaurant, three Latino traditions
Guatamala in east Charlotte
Mexican Seafood
You buy – We fry
Dominican Deli
French/Vietnamese pastry arrives in east Charlotte
North Tryon, UNCC area & northward
Asian Moon Cakes
Mexican carnitas
Beef on Weck from Buffalo
Indo-Chinese
Dominican fruit shakes, pressed subs
Mexican ice cream
Louisiana Viet crawfish
Salvadoran comfort food
NYC pastries – Lake Norman
Vegetarian eats from south India
Indian Dosa Night
Middle East via Lynx
Bahn Mi Brothers
Ethiopian sandwiches
Turkish near UNCC
BBQ from Pakistan
Find a taste of Hyderabad at Nawabs Kebabs
Westward
The Patio at Our Lady of Guadalupe
NC fish camps
Fried baloney
Grits & cornmeal
El Tamarindo
Laos in Kings Mountain
Lawrence Caribbean
Multiple Places & Food Trucks
5 eateries for Black History Month
Charlotte's International food scene
South's Love Affair with Soft Drinks
5 Places to "Eat Northern"
Northern Favorites: Six More Eateries
Curry journey: Vietnam, Trinidad, India
Spiedies – Food Truck
5 best bites on Albemarle Road
Lao Sausages – Food Truck
Western Indian – Food Truck
Himalayan flavors – Food Truck
Shaved ice goes global in Charlotte