by Tom Hanchett
For Rubén Granados at La Riviera Marisqueria, seafood has always been celebration food.
He grew up in Huejutla de Reyes, Mexico, cooking at his mom's restaurant. Holiday trips to Tampico, three hours away on the Atlantic Ocean, meant celebrating with shrimp and other ocean treats. Later, coming to Los Angeles as a teen, he discovered Pacific seafood on vacations.
"I began to dream, could I have my own restaurant?" He worked as a waiter, learning the business. Weekends he sold tamales in apartment complexes, walking because he could not afford a car.
Rumors of opportunity pulled him to Charlotte in 2003. On a whim he auditioned for Latino radio station LaRaza 106.1 FM. His nine-year career as an impish character called "La Puchis" made Granados a much-liked public figure — and connected him with restaurant investors.
Granados's La Riviera Marisqueria eatery on Albemarle Road boasts "Un Bocado del Pacifico!" — a bite of the Pacific. There are two menus. One has standard Mexican restaurant fare. Ask for the other, splashed with big photos of elaborate seafood entrés.
I am intrigued by the full page of ceviches, cold dishes featuring shrimp in lime juice. Variations add peppers, onions, tomatoes, fresh fruit and more. Names honor Pacific locales including Nayarit, Sinaloa and Mazatlan. "Every small town has its own style of food," explains Granados.
The Mazatlan is my favorite. Creamy avocado slices and sweet bits of mango play off against tart shrimp and tangy onions.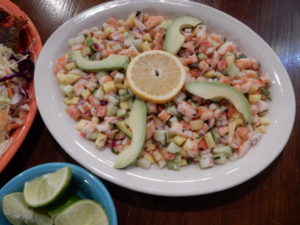 Granados' own favorite is a huge platter called the Riviera which reminds him of Tampico family celebrations. A whole fried fish nestles alongside french fries, salad, rice and a pico de gallo of fresh tomatoes. Plus there's a ramekin of shrimp criolla, whose mild tomato broth carries flavors of Granados' youth.
La Riviera really gets hopping on weekends with eaters celebrating the end of the workweek. A mariachi band strolls from table to table Fridays 8-11 p.m. Karaoke starts at 10pm on Saturdays. A norteño trio often drops in on Sunday in the late afternoon or evening.
La Riviera Marisqueria
Sunday – Thursday, 9 a.m. – 11 p.m.
Friday – Saturday, 9 a.m. – 2 a.m.
6023 Albemarle Road
Charlotte, NC 28212
(704) 566 – 6101
www.marisquerialariviera.com

Center City & nearby
Carolina apple cider
Indian street food
Greens from South Carolina
Upstate NY Italian sausage
Swiss-German bakery
Blackberry memories of Brooklyn
Puerto Rican kabobs
South Boulevard, South Tryon & southward
Mexico + Greece = holiday treats
Cuban box pig
Snack foods from India
SC meets Vietnam
Little corner of El Salvador
Arepas from Venezuela
Indian sweets for Diwali
Colombian soup
Korean at China Wing
Indian food in south Charlotte
Mexican take-out
Mexican Tamaleria
Fort Mill — real Chinese
Ready for Laotian food in Charlotte?
Psst! There's a European Market hidden just south of Ballantyne
Independence Boulevard, Monroe Road & environs
Nigeria in east Charlotte
Korean BBQ
Brazilian bakery
Secret Greek grocery
Colombian BBQ & snacks
Detroit hot dogs
New York bagels
Halal Latino
Russian-Turkish Grocery
Iran Kabobs in Matthews
Ramen in Matthews
Russian picnic fare
Armenia in Matthews
Katayef – holiday dessert at Pita Kabab in Matthews
Crispy NJ pizza comes to east Charlotte
Central Av, Albemarle Road & vicinity
Family-style Ethiopian
Dominican street food
Jamaican black cake
Somali stew and sides
Schawarma from Jerusalem
Oriental buns
Greek pastries
Bosnian sausages
'Tis the Season for Champurrado
Latino bakery feeds a region
Taste Monterrey, Mexico
Tamales in Plaza Midwood
One restaurant, three Latino traditions
Guatamala in east Charlotte
Mexican Seafood
You buy – We fry
Dominican Deli
French/Vietnamese pastry arrives in east Charlotte
North Tryon, UNCC area & northward
Asian Moon Cakes
Mexican carnitas
Beef on Weck from Buffalo
Indo-Chinese
Dominican fruit shakes, pressed subs
Mexican ice cream
Louisiana Viet crawfish
Salvadoran comfort food
NYC pastries – Lake Norman
Vegetarian eats from south India
Indian Dosa Night
Middle East via Lynx
Bahn Mi Brothers
Ethiopian sandwiches
Turkish near UNCC
BBQ from Pakistan
Find a taste of Hyderabad at Nawabs Kebabs
Westward
The Patio at Our Lady of Guadalupe
NC fish camps
Fried baloney
Grits & cornmeal
El Tamarindo
Laos in Kings Mountain
Lawrence Caribbean
Multiple Places & Food Trucks
5 eateries for Black History Month
Charlotte's International food scene
South's Love Affair with Soft Drinks
5 Places to "Eat Northern"
Northern Favorites: Six More Eateries
Curry journey: Vietnam, Trinidad, India
Spiedies – Food Truck
5 best bites on Albemarle Road
Lao Sausages – Food Truck
Western Indian – Food Truck
Himalayan flavors – Food Truck
Shaved ice goes global in Charlotte