Tom Hanchett
I got a call not long ago from a reader seeking Laotian food. "None that I know of in Charlotte," I said sadly. A month later, JP to Go pops up on my Facebook feed. Bingo!
So what kind of food comes from Laos? Look at a map southeast Asia and you'll find Laos nestled between Vietnam and Thailand. If you like either of those cuisines, you'll enjoy discovering what JP to Go has to offer.
Johnny Vong and wife Pone Naovarath, both in their early 30s, started JP to Go in 2017. They park their bright blue trailer next to her parents' V & K Asian Market, 2626 Little Rock Road just off Interstate 85 near the airport. Naovarath's family came to the U.S. as refugees from Laos after the Vietnam War. Their store specializes in fresh vegetables from southeast Asia, attracting customers from far beyond Charlotte.
My favorite item on the JP to Go menu are the chubby Lao sausages grilled on wooden skewers. "They're homemade from my mom and mother-in-law's recipes," says Vong. "In Laos they are called sai kok — pork, a little bit of rice, two different herbs."
You can get the sausages in a combo with what the menu lists as "pork fried rice." It's actually a Lao favorite called nam kao, crunchy rice tossed with onion, peanuts and bits of ham. Or craft your own combo by ordering pad thai, a robust Lao version of the familiar noodle dish found at Thai restaurants.
Want something spicy? Select the papaya salad, perhaps the most popular dish in Laos, composed of strands of green papaya in savory fish sauce. Or get chicken wings in Lao-inspired sweet-hot flavors.
Ask about daily specials, which tend to be traditional. Larb: minced chicken or beef with spicy seasoning. Bahn coun: morsels of pork and mushroom embedded in a sort of rice custard which you douse in golden fish sauce. Bamboo soup: thick and complex with greens and pork.
While you wait the ten minutes for your to-go box you'll usually have lots of company — non-Asian warehouse workers, bodybuilders from a nearby gym, a carload of Asian high school kids, an Asian businessman in a suit and tie, all on one recent day.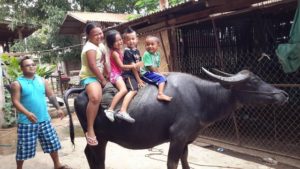 JP Food to Go
Monday – Saturday Noon – 7 p.m.
Sunday Noon – 6 p.m.
Bright blue cart outside V & K Asian Store
2626 Little Rock Road
Charlotte, NC 28214
(704) 953 – 7765
Facebook: JP ToGo

Center City & nearby
Carolina apple cider
Indian street food
Greens from South Carolina
Upstate NY Italian sausage
Swiss-German bakery
Blackberry memories of Brooklyn
Puerto Rican kabobs
South Boulevard, South Tryon & southward
Mexico + Greece = holiday treats
Cuban box pig
Snack foods from India
SC meets Vietnam
Little corner of El Salvador
Arepas from Venezuela
Indian sweets for Diwali
Colombian soup
Korean at China Wing
Indian food in south Charlotte
Mexican take-out
Mexican Tamaleria
Fort Mill — real Chinese
Ready for Laotian food in Charlotte?
Psst! There's a European Market hidden just south of Ballantyne
Independence Boulevard, Monroe Road & environs
Nigeria in east Charlotte
Korean BBQ
Brazilian bakery
Secret Greek grocery
Colombian BBQ & snacks
Detroit hot dogs
New York bagels
Halal Latino
Russian-Turkish Grocery
Iran Kabobs in Matthews
Ramen in Matthews
Russian picnic fare
Armenia in Matthews
Katayef – holiday dessert at Pita Kabab in Matthews
Crispy NJ pizza comes to east Charlotte
Central Av, Albemarle Road & vicinity
Family-style Ethiopian
Dominican street food
Jamaican black cake
Somali stew and sides
Schawarma from Jerusalem
Oriental buns
Greek pastries
Bosnian sausages
'Tis the Season for Champurrado
Latino bakery feeds a region
Taste Monterrey, Mexico
Tamales in Plaza Midwood
One restaurant, three Latino traditions
Guatamala in east Charlotte
Mexican Seafood
You buy – We fry
Dominican Deli
French/Vietnamese pastry arrives in east Charlotte
North Tryon, UNCC area & northward
Asian Moon Cakes
Mexican carnitas
Beef on Weck from Buffalo
Indo-Chinese
Dominican fruit shakes, pressed subs
Mexican ice cream
Louisiana Viet crawfish
Salvadoran comfort food
NYC pastries – Lake Norman
Vegetarian eats from south India
Indian Dosa Night
Middle East via Lynx
Bahn Mi Brothers
Ethiopian sandwiches
Turkish near UNCC
BBQ from Pakistan
Find a taste of Hyderabad at Nawabs Kebabs
Westward
The Patio at Our Lady of Guadalupe
NC fish camps
Fried baloney
Grits & cornmeal
El Tamarindo
Laos in Kings Mountain
Lawrence Caribbean
Multiple Places & Food Trucks
5 eateries for Black History Month
Charlotte's International food scene
South's Love Affair with Soft Drinks
5 Places to "Eat Northern"
Northern Favorites: Six More Eateries
Curry journey: Vietnam, Trinidad, India
Spiedies – Food Truck
5 best bites on Albemarle Road
Lao Sausages – Food Truck
Western Indian – Food Truck
Himalayan flavors – Food Truck
Shaved ice goes global in Charlotte