Tom Hanchett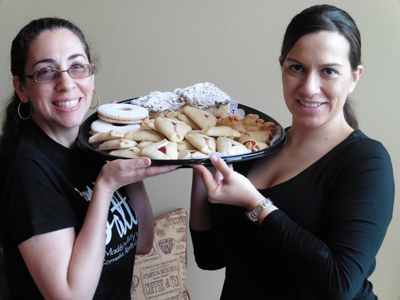 You don't have to be a New Yorker to enjoy Maddy's Fatty's Bakery on Catawba Avenue off I-77 Exit 28 near Lake Norman. But if you're from The City you'll likely feel especially at home.
You'll see black-and-white cookies with distinctive chocolate and vanilla icing, an NYC favorite. There are also crumb cakes and cheesecakes. And the small jam-filled rolled pastries called ruggelah. On Fridays watch for challah, the traditional Jewish braided bread.
This week look for hamantashen baked especially for the Jewish holiday of Purim, which comes up Wednesday and Thursday March 23-24. The triangular jam-filled cookies recall Hamen, an ancient villain who was foiled in his plans to murder Jews.
Bakery co-owner Madeline "Maddy" Friedman Baucom grew up Jewish in Rockland County just outside NYC. When her parents moved the family to northern Mecklenburg County in the early '90s, she felt alone in a place that then had few people from the urban North. "We had to go down to Charlotte to find a Jewish temple," she recalls.
Today, though, Temple Kol Tikvah in Davidson draws a sizable congregation from the Lake Norman suburbs. "The Lake Jews, we call ourselves," she says with a chuckle.
With sister-in-law Enza Germano Friedman, Baucom opened the bake shop about four years ago. "We're a custom bakery," Baucom explains: "We'll make anything for anyone." The unusual name, "Maddy's Fatty's," refers to taunts that now-svelte Baucom endured when she was a chubby kid.
"Revenge never tasted so sweet," proclaims the bakery's motto.
Maddy's Fatty's Bakery & Cafe
Monday – Thursday 7 a.m. – 7 p.m.
Friday – Saturday 7 a.m. – 8 p.m.
19905 W. Catawba Av, suite 105 (off I77 Exit 28)
Cornelius, NC 28031
(704) 439 – 0996

Center City & nearby
Carolina apple cider
Indian street food
Greens from South Carolina
Upstate NY Italian sausage
Swiss-German bakery
Blackberry memories of Brooklyn
Puerto Rican kabobs
South Boulevard, South Tryon & southward
Mexico + Greece = holiday treats
Cuban box pig
Snack foods from India
SC meets Vietnam
Little corner of El Salvador
Arepas from Venezuela
Indian sweets for Diwali
Colombian soup
Korean at China Wing
Indian food in south Charlotte
Mexican take-out
Mexican Tamaleria
Fort Mill — real Chinese
Ready for Laotian food in Charlotte?
Psst! There's a European Market hidden just south of Ballantyne
Independence Boulevard, Monroe Road & environs
Nigeria in east Charlotte
Korean BBQ
Brazilian bakery
Secret Greek grocery
Colombian BBQ & snacks
Detroit hot dogs
New York bagels
Halal Latino
Russian-Turkish Grocery
Iran Kabobs in Matthews
Ramen in Matthews
Russian picnic fare
Armenia in Matthews
Katayef – holiday dessert at Pita Kabab in Matthews
Crispy NJ pizza comes to east Charlotte
Central Av, Albemarle Road & vicinity
Family-style Ethiopian
Dominican street food
Jamaican black cake
Somali stew and sides
Schawarma from Jerusalem
Oriental buns
Greek pastries
Bosnian sausages
'Tis the Season for Champurrado
Latino bakery feeds a region
Taste Monterrey, Mexico
Tamales in Plaza Midwood
One restaurant, three Latino traditions
Guatamala in east Charlotte
Mexican Seafood
You buy – We fry
Dominican Deli
French/Vietnamese pastry arrives in east Charlotte
North Tryon, UNCC area & northward
Asian Moon Cakes
Mexican carnitas
Beef on Weck from Buffalo
Indo-Chinese
Dominican fruit shakes, pressed subs
Mexican ice cream
Louisiana Viet crawfish
Salvadoran comfort food
NYC pastries – Lake Norman
Vegetarian eats from south India
Indian Dosa Night
Middle East via Lynx
Bahn Mi Brothers
Ethiopian sandwiches
Turkish near UNCC
BBQ from Pakistan
Find a taste of Hyderabad at Nawabs Kebabs
Westward
The Patio at Our Lady of Guadalupe
NC fish camps
Fried baloney
Grits & cornmeal
El Tamarindo
Laos in Kings Mountain
Lawrence Caribbean
Multiple Places & Food Trucks
5 eateries for Black History Month
Charlotte's International food scene
South's Love Affair with Soft Drinks
5 Places to "Eat Northern"
Northern Favorites: Six More Eateries
Curry journey: Vietnam, Trinidad, India
Spiedies – Food Truck
5 best bites on Albemarle Road
Lao Sausages – Food Truck
Western Indian – Food Truck
Himalayan flavors – Food Truck
Shaved ice goes global in Charlotte