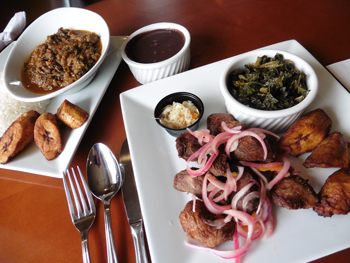 Tom Hanchett
No longer in business.
Sharp-eyed drivers on Monroe Road might have noticed a new sign sprouting from a long-empty Korean restaurant: Island Hub. Go inside to discover Charlotte's first Haitian eatery.
Haitian-born Bernadette and Solon Jean-Francois met and married in New York, then moved to Charlotte about 15 years ago. Their food will remind you of Cuban and other Caribbean cuisines but with distinctive twists.
Start out with a couple of pattys — thin empanadas filled with meat. Island Hub offers both Jamaican-style ones as big as your hand and also the smaller, flakier variant found in Haiti. For your main dish consider:
Griot — pork chunks are marinated in citrus and peppers, then flash-fried. Often comes with a small side of pikliz, a Haitian spicy slaw.
Legume — spinach, eggplant and a vegetable called chayote are braised, pounded together in the cooking pot, then simmered with chunks of tender beef.
As an island nation, Haiti has a vibrant seafood tradition. Try lambi — the Caribbean shellfish also known as conch — in a slightly spicy golden gravy. Or a whole red snapper strewn with onions and sweet red pepper, then pan-seared in a light tomato sauce. They're not always available, and cooking can take a while, but worth the wait.
For sides get some sweet fried plantains. And don't miss Charlotte's most savory collard greens.
Solon loves music (he plays bass), so there's usually kompa on the sound-system. That's Haiti's smoother relative of reggae, influenced by bouncy African pop. Weekends you'll find live jazz and poetry or dancing to a Caribbean DJ.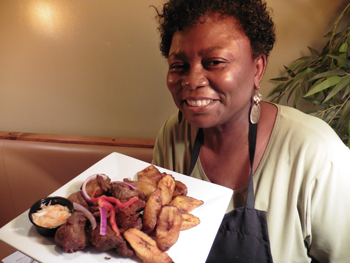 Island Hub is a gathering place not just for Charlotte's Haitian community. "We get people from New York, Boston, Florida who miss Caribbean food," says Bernadette. "We call it a family restaurant. We want everyone to be family."
Island Hub Restaurant & Lounge
No longer in business.
3723 Monroe Road
Charlotte, NC 28205
(980) 585 – 1113

Center City & nearby
Carolina apple cider
Indian street food
Greens from South Carolina
Upstate NY Italian sausage
Swiss-German bakery
Blackberry memories of Brooklyn
Puerto Rican kabobs
South Boulevard, South Tryon & southward
Mexico + Greece = holiday treats
Cuban box pig
Snack foods from India
SC meets Vietnam
Little corner of El Salvador
Arepas from Venezuela
Indian sweets for Diwali
Colombian soup
Korean at China Wing
Indian food in south Charlotte
Mexican take-out
Mexican Tamaleria
Fort Mill — real Chinese
Ready for Laotian food in Charlotte?
Psst! There's a European Market hidden just south of Ballantyne
Independence Boulevard, Monroe Road & environs
Nigeria in east Charlotte
Korean BBQ
Brazilian bakery
Secret Greek grocery
Colombian BBQ & snacks
Detroit hot dogs
New York bagels
Halal Latino
Russian-Turkish Grocery
Iran Kabobs in Matthews
Ramen in Matthews
Russian picnic fare
Armenia in Matthews
Katayef – holiday dessert at Pita Kabab in Matthews
Crispy NJ pizza comes to east Charlotte
Central Av, Albemarle Road & vicinity
Family-style Ethiopian
Dominican street food
Jamaican black cake
Somali stew and sides
Schawarma from Jerusalem
Oriental buns
Greek pastries
Bosnian sausages
'Tis the Season for Champurrado
Latino bakery feeds a region
Taste Monterrey, Mexico
Tamales in Plaza Midwood
One restaurant, three Latino traditions
Guatamala in east Charlotte
Mexican Seafood
You buy – We fry
Dominican Deli
French/Vietnamese pastry arrives in east Charlotte
North Tryon, UNCC area & northward
Asian Moon Cakes
Mexican carnitas
Beef on Weck from Buffalo
Indo-Chinese
Dominican fruit shakes, pressed subs
Mexican ice cream
Louisiana Viet crawfish
Salvadoran comfort food
NYC pastries – Lake Norman
Vegetarian eats from south India
Indian Dosa Night
Middle East via Lynx
Bahn Mi Brothers
Ethiopian sandwiches
Turkish near UNCC
BBQ from Pakistan
Find a taste of Hyderabad at Nawabs Kebabs
Westward
The Patio at Our Lady of Guadalupe
NC fish camps
Fried baloney
Grits & cornmeal
El Tamarindo
Laos in Kings Mountain
Lawrence Caribbean
Multiple Places & Food Trucks
5 eateries for Black History Month
Charlotte's International food scene
South's Love Affair with Soft Drinks
5 Places to "Eat Northern"
Northern Favorites: Six More Eateries
Curry journey: Vietnam, Trinidad, India
Spiedies – Food Truck
5 best bites on Albemarle Road
Lao Sausages – Food Truck
Western Indian – Food Truck
Himalayan flavors – Food Truck
Shaved ice goes global in Charlotte