Tom Hanchett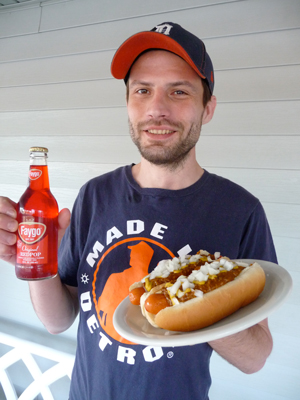 "'Imported from Detroit' — that's not just for those Chrysler ads," quips Tony Palushaj, over a chili dog.  Palushaj's new Omega Coney Island restaurant brings a taste of the Motor City to suburban Charlotte.
Look up "Coney Island" in the Detroit area and you'll find dozens — maybe hundreds — of eateries.  Hotdogs were invented in Coney Island, New York, back in the 1870s and when the fad hit Detroit, folks there called a hotdog a "coney."
Palushaj's family runs five Omega Coney Islands in Detroit, including one on Eight Mile, the Motor City's famed equivalent of Charlotte's Independence Boulevard.  "I grew up in the restaurants, playing with the pots and pans," Tony recalls.
He followed buddy Jeremy Liszewskey, who'd moved south to Charlotte, and took a chance on starting the family's sixth restaurant here. That eatery in Indian Trail has been so successful that they've launched another just off South Boulevard near Pineville.
"I ship in the hotdogs and chili, National brand, straight from Detroit," he points out proudly.  The chili is dense with ground beef, no beans.  The dogs have natural casings, giving a satisfying snap when you bite into them. And there's Detroit's own soft drink, Faygo Red Pop, in glass bottles. Tony says, "One lady from Michigan came in, she started crying."
Omega also draws eaters who've never been to Detroit. Palushaj has added Carolina favorites to make them feel at home.  "Livermush, country ham, beef tips," he smiles, "Customers asked for them."
In Indian Trail
7am – 3pm Monday – Tuesday
7am – 7pm Wednesday – Friday
7am – 2:30pm Saturday
8am – 2:30pm Sunday
3901 Old Monroe Road
Indian Trail, NC  28079
704-821-4142
In south Charlotte
10 a.m.-6 p.m. Monday-Saturday
7631 Sharon Lakes Road
Charlotte, NC  28210
704-643-8082

Center City & nearby
Carolina apple cider
Indian street food
Greens from South Carolina
Upstate NY Italian sausage
Swiss-German bakery
Blackberry memories of Brooklyn
Puerto Rican kabobs
South Boulevard, South Tryon & southward
Mexico + Greece = holiday treats
Cuban box pig
Snack foods from India
SC meets Vietnam
Little corner of El Salvador
Arepas from Venezuela
Indian sweets for Diwali
Colombian soup
Korean at China Wing
Indian food in south Charlotte
Mexican take-out
Mexican Tamaleria
Fort Mill — real Chinese
Ready for Laotian food in Charlotte?
Psst! There's a European Market hidden just south of Ballantyne
Independence Boulevard, Monroe Road & environs
Nigeria in east Charlotte
Korean BBQ
Brazilian bakery
Secret Greek grocery
Colombian BBQ & snacks
Detroit hot dogs
New York bagels
Halal Latino
Russian-Turkish Grocery
Iran Kabobs in Matthews
Ramen in Matthews
Russian picnic fare
Armenia in Matthews
Katayef – holiday dessert at Pita Kabab in Matthews
Crispy NJ pizza comes to east Charlotte
Central Av, Albemarle Road & vicinity
Family-style Ethiopian
Dominican street food
Jamaican black cake
Somali stew and sides
Schawarma from Jerusalem
Oriental buns
Greek pastries
Bosnian sausages
'Tis the Season for Champurrado
Latino bakery feeds a region
Taste Monterrey, Mexico
Tamales in Plaza Midwood
One restaurant, three Latino traditions
Guatamala in east Charlotte
Mexican Seafood
You buy – We fry
Dominican Deli
French/Vietnamese pastry arrives in east Charlotte
North Tryon, UNCC area & northward
Asian Moon Cakes
Mexican carnitas
Beef on Weck from Buffalo
Indo-Chinese
Dominican fruit shakes, pressed subs
Mexican ice cream
Louisiana Viet crawfish
Salvadoran comfort food
NYC pastries – Lake Norman
Vegetarian eats from south India
Indian Dosa Night
Middle East via Lynx
Bahn Mi Brothers
Ethiopian sandwiches
Turkish near UNCC
BBQ from Pakistan
Find a taste of Hyderabad at Nawabs Kebabs
Westward
The Patio at Our Lady of Guadalupe
NC fish camps
Fried baloney
Grits & cornmeal
El Tamarindo
Laos in Kings Mountain
Lawrence Caribbean
Multiple Places & Food Trucks
5 eateries for Black History Month
Charlotte's International food scene
South's Love Affair with Soft Drinks
5 Places to "Eat Northern"
Northern Favorites: Six More Eateries
Curry journey: Vietnam, Trinidad, India
Spiedies – Food Truck
5 best bites on Albemarle Road
Lao Sausages – Food Truck
Western Indian – Food Truck
Himalayan flavors – Food Truck
Shaved ice goes global in Charlotte